Red / White Striped Reflective U-Channel Post Panel
Item #

Y3476-Wh/Red

Compliance

OSHA 1910.1200(c)
Shipping Declarations
Note:
3'' x 30 or 6'' x 30'' Diamond Grade Reflective Panels for U-Channel Posts
Color: Red / White Striped Reflective Panel
Also Available:
This Red / White Striped Reflective U-Channel Post Panel has effective messages or images for traffic and pedestrian safety concerns. A Red / White Striped Reflective U-Channel Post Panel is a helpful resource to aid in the protection of the health and safety on roads, and is not an alternative for required protective measures for eliminating or reducing hazards.
Product Information
Details
U-channel Striped Reflective Panels
To view and print a PDF version of this page, click on this link: SafetySign.com Reflective Panels →
Sign Construction:
These signs are manufactured with rust free aluminum overlaminated with Diamond Grade Reflective (Type IX).
Aluminum will not chip, crack or rust. Aluminum signs will last longer that plastic or steel signs.
Panels are easy to install and are supplied with 2 holes at 3/8"dia. (top & bottom).
Panels are available in 4 color combinations and 2 sizes: 3" x 30" & 6" x 30".
Panels have been designed for any of the following applications: post mounting, fence or wall mounting.
Striped Reflective Panels
Make your signs more attractive and at the same time, more noticeable; by installing striped reflective panels. Mounting hardware sold separately, see Y3465.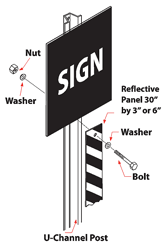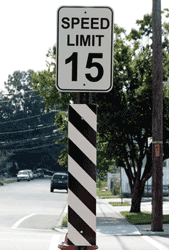 Reviews