Slippery When Wet / Men Working Floor Sign
Double-Sided Reversible Floor Sign
Item #

P5471

Language

English. Also available in Spanish.

Compliance

OSHA 1910.1200(c)
Shipping Declarations
This Slippery When Wet / Men Working Floor Sign uses effective messages to address workplace compliance procedures and safety concerns. A Slippery When Wet / Men Working Floor Sign is a useful device to help protect the health and safety of personnel, but is not an alternative for required protective measures for eliminating or abating hazards.
Other available signs:
Product Information
Details
Corrugated Floor Stand
Product Construction:
Corrugated plastic is an inexpensive way to temporarily mark areas where work or maintenance is being done.
Our corrugated floor stands are double side, offering 2 different messages.
Floor stand size on application: 12" x 20".
Material and printed images are rated for Indoor and Outdoor use.
Ideal for multiple uses and multiple applications.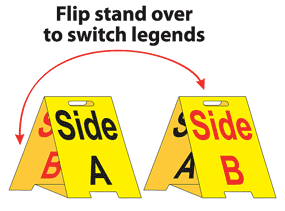 Reviews