7′

Material
Sku
Quantity/Price
Fiberglass
Y3461
$60.25
$57.35
$54.50
8′

Material
Sku
Quantity/Price
Fiberglass
Y3462
$63.75
$60.50
$57.55
Special Freight Arrangement:
Due to the size of this product, freight shipping will be required. You may contact our customer service team for a quote or you can place your order and a customer service representative will contact you about freight shipping charges.
If you would like to use your own freight carrier, please include your freight carrier account in the special instructions box at the bottom of the checkout page before placing your order. A customer service representative will be in contact with you if there are any questions.

Phone: 800-274-6271
Fax: 800-279-6897
SafetySign.com guarantees that we have the lowest price on every item we manufacture, plain and simple.
If you find a lower price, we'll match it!
COMPOSITE / FIBERGLASS POSTS ACCESSORIES & INSTALLATION
Sign Mounting on Composite Posts
What do you need when mounting signs? If you are mounting signs on a Composite Post, the following accessories are required.
1 Composite post, 2 sizes available 7ft to 8ft, in a green finish.
1 Bolting Set (Part# Y3465 or Y4899). Set includes washers and bolts, or
1 Tamperproof Set (Part# Y4900 or Y4901). Set includes washers, one way bolts and break away nuts.
1 Pair of Ribbed Plates (optional) Part# Y4915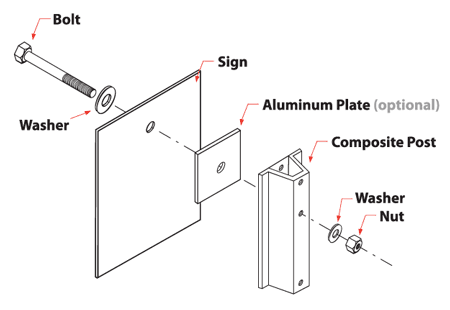 Composite Posts Description
Mounts any of the following sizes: 12w x 18h", 12w x 6h", 18w x 24h", 24 x 24" and 30 x 30" signs (vertical layouts with 2 holes)
Posts can be used in many different applications.
75% lighter than steel posts.
And 5 times stronger than steel posts.
These posts will not rust and will not conduct electricity.
2 Sizes available 7ft & 8ft (sign mounting hardware included)
Posts are provided with cap to prevent water and snow from being trapped inside
Provided also with an arrow-shaped end, making it easier to drive into the ground.
Composite posts will mount one sign at the time, or a sign on each side, but no more than that.
| Size | Width | Height | Depth | Available Materials |
| --- | --- | --- | --- | --- |
| 7′ | 2″ | 84″ | 1″ | |
| 8′ | 2″ | 96″ | 1″ | |
Material
Available
Sizes

Fiberglass

A durable material that will not chip or crack, and can withstand abrasions, corrosion, and harsh chemicals. Great for indoor and outdoor usage.
| | None | Engineering Grade | High Intensity Prismatic | Diamond Grade |
| --- | --- | --- | --- | --- |
| ATSM D956 Type | – | Type I | Type IV | Type IX |
| Brightness | – | Standard Material | 3x More | 10x More |
| Night-Time Visibility | – | 500' | 1,000' | 1,500' |
| Reflectivity | | | | |