Bilingual COVID-19 Store Protocols Sandwich Board Sign
A-Frame with 2-Signs in 24 × 18″ or 24 × 36″
Item #

D6591BI-PFC36

Sign Reads

Sign Design

Language

Bilingual (English/Spanish). Also available in English.

Compliance

OSHA 1910.1200(c)
Note:
Kit includes: Two printed single-sided signs, plus one frame either in metal or plastic. Weight information is below.
Use this Bilingual COVID-19 Store Protocols Sandwich Board Signs to inform customers of new regulations and a plan of action they should take in response of the COVID-19 outbreak. Business Owners should develop a comprehensive COVID-19 exposure control plan, which includes control measures, symptom checking, social distancing, hygiene and decontamination procedures, and training.
---
24 × 36″ Deluxe Heavy-duty 21 lbs. Portable Plastic A-Frame
Frame Outside Dimensions: 46.125″ H × 27″ W × 3.125″ D
Frame Weight: 20 lbs.
Corrugated Plastic Signs + Frame Weight: 21.15 lbs.
This made-to-order product is manufactured on-demand to address COVID-19 signage requirements. It can be returned only if defective per our custom product return policy.
Product Information
Details
24 × 36″ Deluxe Heavy-duty 21 lbs. Portable Plastic A-Frame + Two 4 mm Corrugated Plastic Signs
Large format sign stand
Sold with two 4mm Corrugated Plastic signs
Hardware is not required
Signs easily slide in and out
Will accommodate two 24″ wide × 36″ high signs
Folds flat and has a carrying handle for easy portability
The Quick-Change feature allows for sign changes in seconds
Stay tabs ensure sign stays securely in place
Add sand to the frame for a more stable solution. Instructions below
Hinges lock in open position to prevent the frame from over-extending
The frame covers ½″ of the sign at the top and bottom
Application and Benefits
This deluxe version has a "lift up, drop in" feature, and no hardware is required when installing your sign panels. The "lift up, drop in" feature is the key to make this stand different from others.
You can add internal weight to the stand (if needed). We recommend 5 lbs (or about 1/2 gallon) of dry sand in each side. Avoid filling the frames all the way to the top or they will bend.
Can be used indoors or outdoors. Sign panels may need to be replaced after 1–2 years of outdoor use.
Use on sidewalks, job sites, open houses, and many other applications
Assembly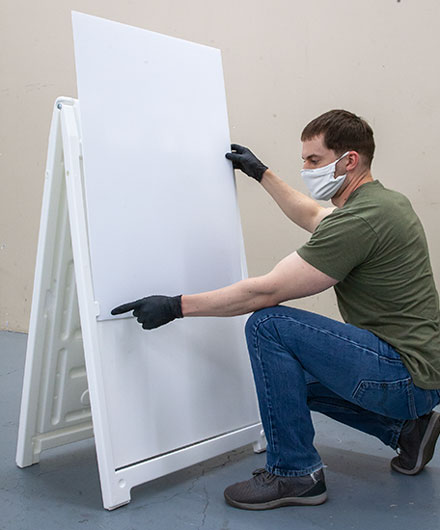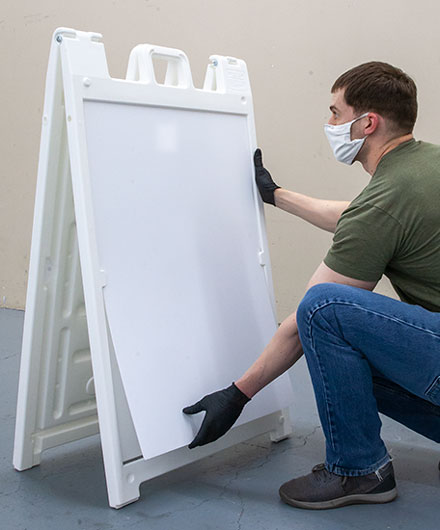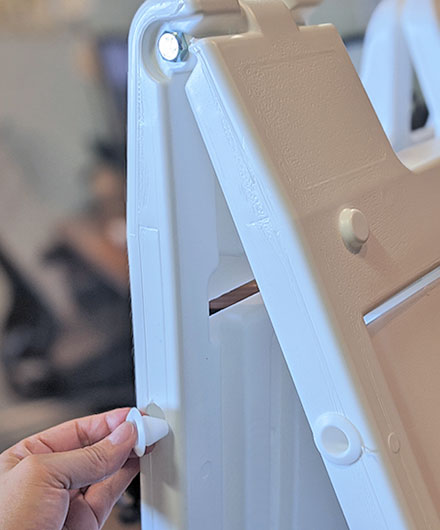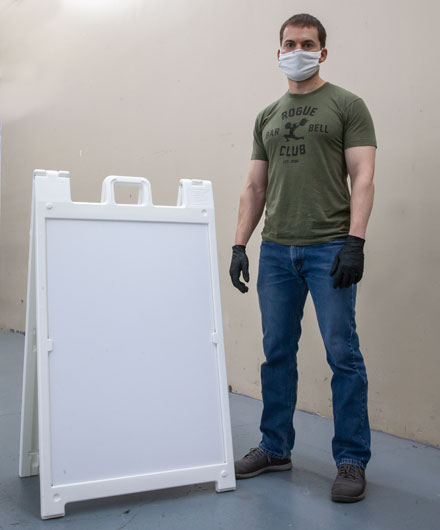 Reviews