78" Tall Fixed Base Impact Recovery Sign Post
ADA Compliant
Note:
Surface mounting hardware is sold separately. Purchase either Y4949 (the concrete anchor kit) or Y4988 (the asphalt anchor kit). View installation instructions by opening the Data Sheet link below
The easy-to-install 78" Tall Impact Recovery Sign Post is manufactured with a reactive spring unit which allows the sign post to withstand bumper hits and return to its original upright position. This feature greatly reduces the potential for vehicle damage as well as sign post damage.
Flexible sign posts are a great choice for parking lots without parking stops and are recommended for concrete or asphalt surfaces.
Impact Recovery Sign Posts are comprised of a white powder coated aluminum post that is 2" in diameter with a 39" tall, 4" diameter yellow bollard designed for conspicuity and to absorb vehicle impacts while protecting the inner aluminum post from damage. The overall height of the sign post means that it is ADA compliant when coupled with a 12 x 18" parking sign.
Each kit includes the inner white powder coated post, the yellow plastic bollard, and sign mounting hardware to mount 1 sign. Please note that the ground mounting hardware to secure the base to the ground is sold separately. Customers can purchase either the concrete anchor kit, Y4949, or the asphalt anchor kit, Y4988.
Frequently Purchased Together
Product Information
Details
78" FLEX POST WITH BOLLARD (ASPHALT MOUNTING)
Flex Post Description and Key Benefits:
Lightweight. Impactable. Durable.
Easy to install and easy to replace.
Takes a few minutes to install with no special tools required (use standard tools)
Can mount any size sign, sign mounting brackets are supplied with post, brackets adjust to any sign size.
Sign with top and bottom holes are required, ideal hole size to be 3/8" dia.
Product Specifications:
Overall height of unit is 78".
Post is 2" in diameter.
The 78" post is designed to place a handicap sign at 60" above ground level, per ADA specifications.
To comply with MUTCD specification for pedestrian travel areas, the post height must be 102" for the sign to stand at 7 feet above the ground level. (If 102" posts are required, call us to request a price quote).
White top post is 37" high (measured from the top of the yellow bollard to the top of the post).
Yellow bollard height is 39" high.
Yellow bollard is 4" in diameter.
Post is constructed of white powder coated aluminum to prevent warping and remain straight.
Outer yellow bollard is a durable plastic which simulates a formidable concrete barrier for added conspicuity. Prevents bumper damage to metal post.
Unit has a reactive spring assembly that allows the sign post to be bumped by vehicles, rebound, and return upright.
Sign Mounting Hardware included (to mount 1 sign only)
4" Anchors required for ground mounting (sold separately, see item# Y4949)
Accessories Included:
White Aluminum Post with Yellow Bollard
1 Black Fixed Base (8 x 8")
2 galvanized sign mounting brackets.
Installation Tools Required:
Screw Driver or
High Speed Power Drill
3/4" Masonry Drill Bit (Asphalt Mounting)
Socket Wrench with 15/16" Drive (Asphalt Mounting)
Fixed Base Mounting Accessories (sold separately)
Accessories required when mounting any of the Crossing Panels with Fixed Base
Epoxy adhesive is recommended for asphalt mounting and you should be able to find it at your local hardware store. Anchor screws are recommended for concrete mounting only.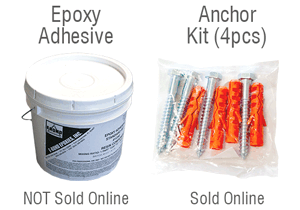 Product Information:
Ideal for high traffic parking lot locations, these sign stands are especially useful for lots without car stops. These highly durable, yet light weight sign stands, have a white powder coated aluminum post in order to prevent warping and remain straight, even in harsh summer and winter conditions. The aluminum sign post is available with an outer yellow bollard constructed of durable plastic which simulates a formidable concrete barrier for added conspicuity. The bollard also supplies additional protection in order to prevent damage to the post.
Reviews