SNAP'n SAFE U-Channel Sign Post Breakaway
For 2–4 lbs./ft. U-channel posts
SNAP'n SAFE U-Channel Sign Post Breakaway is an NCHRP 350 compliant breakaway sign post assembly that is designed with a 360° shear point that will prevent the sign post from striking and penetrating the windshield or roof of a vehicle when impacted during a collision.
After impact, the upper section of the SNAP'n SAFE remains inside the post while the lower section of the breakaway remains inside the anchor post. Unfasten hardware & SNAP'n SAFE can be removed easily. Once impacted, the entire SNAP'n SAFE breakaway has to be replaced.
Replacement of sign post depends on impact conditions. Anchor posts have favorable results of staying in place for reuse, saving you money and requiring less labor for repairs.
This breakaway sign post assembly fits 2 lbs./ft., 3 lbs./ft., and 4 lbs./ft. U-channel posts, and weighs 4 lbs. It is made of cast gray iron, 80% of which is recycled material, and can also withstand winds of up to 120 mph. All necessary hardware is included to connect the assembly to both the anchor post and sign post.
Product Information
Details
SNAP'n SAFE™ U-Channel Post Breakaway Coupler
This SNAP'n SAFE™ Breakaway Device is made of cast gray iron, and withstands winds of 120 MPH. Made from 80% recycled materials.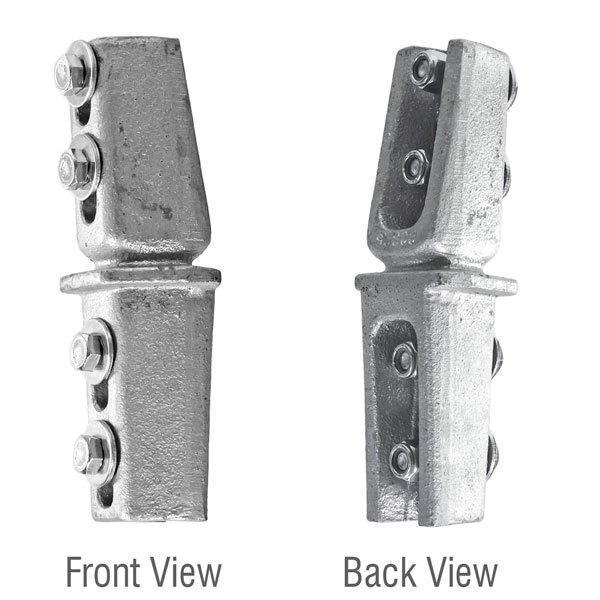 Installation
Installation instructions are included with every SNAP'n SAFE U-Channel post breakaway device and are provided here for reference purposes.
Tools required

½″ socket and ratchet wrench.
½″ open end wrench
Installation instructions:
Remove any burrs or imperfections from the 2 lbs./ft., 3 lbs./ft., or 4 lbs./ft. signpost and the anchor post.
Check the hole location on the anchor post and signpost. The top hole on the anchor post must be ½″ on center (± ⅛″) from the top of the anchor post. The bottom hole of the signpost must be ½″ on center (± ⅛″) from the end of the signpost.
Determine the location for the in-ground anchor post.
Drive anchor posts into the ground so only three (3) holes are visible. The anchor post must be straight and level at the completion of the installation.
Bolt the SNAP'n SAFE coupler to the ground anchor post using (2) hex bolts, (2) nuts, and (2) washers.
MAX TORQUE = 19 FT LBS.
Align the signpost to the SNAP'n SAFE coupler and attach using the (2) hex bolts, (2) nuts, and (2) washers.
MAX TORQUE = 19 FT LBS.
ANCHOR POST MUST BE LEVEL FOR PROPER SNAP'n SAFE INSTALLATION.
Reviews