Item #

X4704-RG

Compliance

NCHRP 350 Approved
Methods of Mounting Signs Other Than on Posts
Flag Trees
MASH 2016
Note:
Rigid brackets will support any rigid sign size. The roll-up bracket holds the sign by its horizontal rib (up to 1/4" thick), and will work with all roll-up sign types and sizes.
View and compare our sign stands
Product Information
Details
Our Heavy Duty Tripod Stand is an all-purpose powder coated steel three legged sign stand designed primarily to hold 36" and 48" rigid signs. Roll-up signs can also be displayed with the purchase of the rigid and roll-up bracket option.
This stand also supports rectangular and square signs. We recommend you purchase the stand with the roll-up sign bracket option when mounting signs smaller than 36" signs. This stand meets MASH 2016 and NCHRP-350 tests and features a telescoping mast and flagholder for 3 flags.
---
Sign Mounting Options
Sign stand with rectangular 36" and 48" signs
This sign stand supports rectangular signs from 12" to 48" in height. When using the tripod with 12" to 24" signs, we recommend purchasing the kit including both rigid and roll-up sign brackets.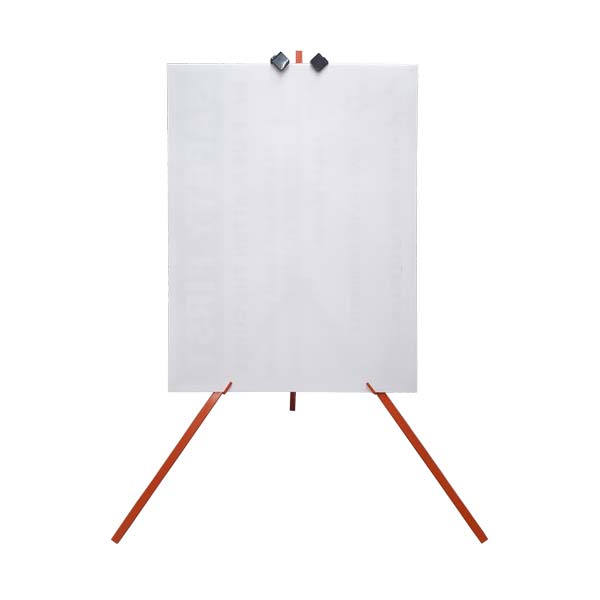 ---
* Sign Height: is measured from the ground to the bottom of the sign.
Benefits

MUTCD compliant and NCHRP-350 approved.
Compact and lightweight design supports 36″ and 48″ Rigid and Roll-up signs.
Three pivoting legs and sliding mast with triple flagholder.
Legs and mast are made of 1-3/16″ square, 16 ga. steel tubing meeting the ASTM A500 standard.
Caution: Users must comply with all legal restrictions for temporary warning signs in accordance with the manual on uniform traffic control devices and local requirements. Please consult local enforcement agency for compliance.
Application
Set-Up Instructions for Roll Up Signs:
Release leg lock mechanism and lower legs to ground.
Lift up on center upright until legs lock in place.
Remove center mast extension and insert the mast extension into the roll up bracket.
Insert the center mast extension with the roll up bracket back into the center mast.
Set the mast and roll up bracket to the desired height and insert horizontal rib of roll up into the bracket.
---
MUTCD Compliance
2009 Edition Part 6 Figure 6F-2. Methods of Mounting Signs Other Than on Posts
The fourth example shows an orange diamond-shaped sign with a black border and letters with the words "UTILITY WORK AHEAD" in three lines mounted on a vertical pole that is mounted on four horizontal supports. The distance from the bottom of the sign to the bottom of the supports is labeled as "1 ft MIN. above the traveled way." At the top of the sign, three orange flags are shown mounted equidistant apart from each other on short staffs that extend out from the top of the vertical pole at 45-degree angles.
Reviews