LED Vest Fluorescent Orange
ANSI/ISEA 107 Class II
Item #

Y5003L

Compliance

ANSI/ISEA 107
Note:
This garment is not flame resistant as defined by ANSI/ISEA 107-2015 Section 10.5
This fully compliant fluorescent orange ANSI/ISEA 107 Class II tear-away vest is made of lightweight breathable mesh polyester material with 3M retro-reflective bands. The large vest is adjustable in size from Medium to Large.
It features 16 waterproof LED's (8 on the front, 8 on the back) controlled by 3 modes; fast flash, slow flash, and constant lighting to increase safety by improving visibility.
The LED vest is powered by a single lithium-ion battery which is installed in a battery compartment located on the inside of the vest in a Velcro pocket. The battery charger is included with the vest. It also has 2 front pockets plus a power on-off button.
Frequently Purchased Together
Product Information
Details
LED Vest Details and Compliance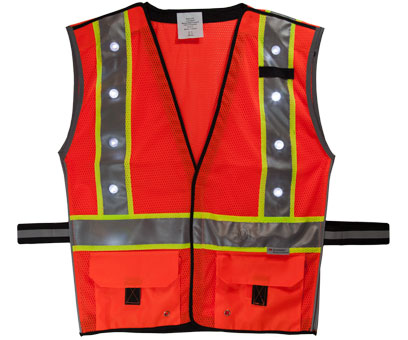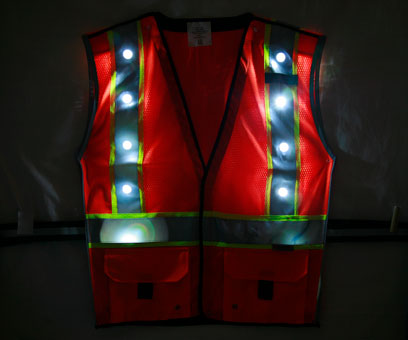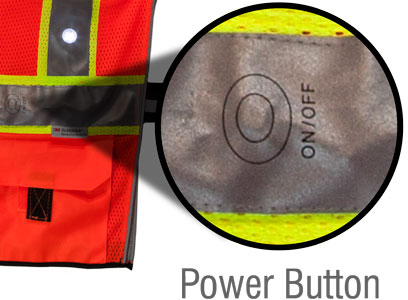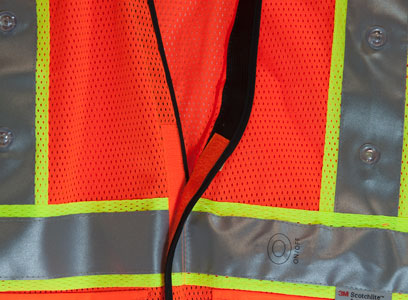 ---
Weight

1 lb.

Colors

Fluorescent Orange

Material

Nylon Mesh with 3M® Reflective Bands

Illumination

Three LED lighting modes - Fast Flash, Slow Flash, and ON or OFF
16 waterproof LEDs (8 on the front, 8 on the back)

Power

"Push ON / OFF Button" activation and function control
Vest with Rechargeable Battery Pack: Powered by rechargeable lithium-ion battery (included with the vest)

Compliance

Compliant with ANSI/ISEA 107-2015 Class 2 Type R

Safety Feature

Tear-away points for safety.

Sizes

Sold in Large. Other sizes available (Small, Medium, and Extra-Large). Contact us by email to request pricing.
Reviews