18" LED Stop / Stop Paddle
MUTCD Compliant
Item #

Y5001-UB

Compliance

MUTCD Section 7D.05
Note:
This product cannot be shipped to Alaska, Hawaii, or Puerto Rico via UPS Ground, FedEx Ground, or FedEx Home Delivery.

Push Button activation and function control. Over 1 mile visibility when illuminated. Weight 2.1lb. Click the Data Sheet button to view user instructions.
LED Stop Sign Paddle
At only 2.1lbs, the LED Stop Sign Paddle is light enough to be used for several hours at a time without much fatigue. It is the sign of choice for crossing guards, fire police, and more. When you need to direct traffic during day and night settings, this LED paddle is your best option. Not only is it bright enough to see during the day, the night mode is the perfect solution for low visibility. This particular Hand-Held Stop Paddle has the following features:
Highly reflective engineering grade prismatic sheeting
52 LEDs on both sides that automatically light up when the paddle is raised upright into the air
6″ tall lettering on both sides of the sign reading STOP
Two modes: constant illumination or flashing illumination (60 flashes/minute)
1 Wall charger
1 rechargeable lithium-ion battery pack (provides up to 12 hours of continuous flashing or up to 2 hours of being constantly lit)
1-year warranty
---
Why SafetySign.com?
The Sign Experts:
Do you have questions about which type of LED stop paddle is best for your needs? No matter the inquiry our knowledgeable customer service team can help you find exactly what you need and assist in the shopping experience.
Trusted by Thousands:
All across the nation, shoppers come to SafetySign.com for their sign related needs. It has helped us earn tens of thousands of five-star reviews. Don't just take our word for it though, read our customer testimonials to hear it from shoppers like you.
Fast Shipping:
To help get your order from the web and to your door as quickly as possible, each in-stock item is processed and routed the same or next business day.
USA Made Products Since 1988:
We've been proudly serving customers since our New Jersey facility first opened in 1988 and continue to be recognized by our customers for exceptional service and eye for detail.
Return Policy:
Need to return your LED Stop Sign Paddle? No problem. Please read our Return Policy for more information.
Frequently Purchased Together
Product Information
Details
Hand Held LED Stop Sign Demonstration
Learn all about the features and benefits of SafetySign.com's new Hand Held LED Stop Signs.
---
Day & Night Time Views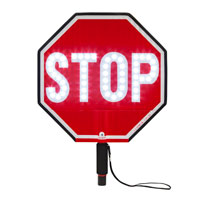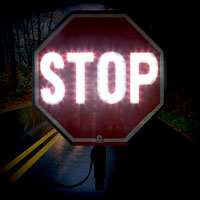 ---
Accessories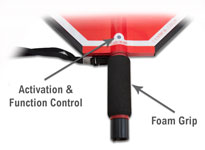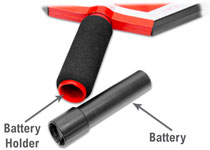 ---
Illumination

Constant, flashing (60/min)
Over 12 hours continuous Flashing operation per charge
Over 2 hours continuous Steady operation per charge

Night Time Visibility

Over 1 mile visibility when illuminated

Power

Push Button activation and function control

Functions

Automatic 'tilt' shut off for power conservation

Compliance

RoHS Directive 2011/65/EU
2009 MUTCD Section 7D.05 Operating Procedures for Adult Crossing Guards

Battery Type

Lithium Ion Battery Pack (1 Included)

Battery Life

5+ Years

Battery Charger

USB wall charger included

Weight

2.1 lb.

Handle Size

Approximately 1½″ in diameter and 4½″ tall
Looking for more detailed instructions?
Led Stop Sign Instructions PDF
Reviews