Tied with the joyous celebration of holidays also comes the tragic loss of love ones.  A Cronton teen, Margaret Radford, was killed on Sunday night when their car veered off the road along Interstate 287.  Accompanying her was a 17 year Stamford teen who was seriously injured in the one-car accident.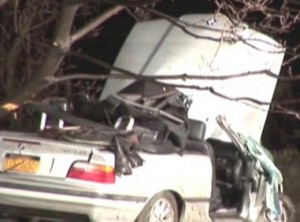 The accident occurred a little after 9pm on New Year 's Day, when her 1999 BMW convertible spun out of control at Exit 22 in Port Chester, New York.  Margaret Radford was pronounced dead at the scene while her passenger, Celia Sprouser was taken to Greenwich Hospital with serious head injuries.
Both occupants were removed from the vehicle from machinery operated by Fire Fighters called the Jaws of Life.  While the loss of Margaret Radford shake n's the community of Cronton-on-Hudson, Celia Sprouser had been brought to serious yet stable condition.
According to witnesses, Margaret Radford was traveling at a high rate of speed in wet conditions when she spun out of control and struck a tree on her driver door.
Related Category Resources