A year after a worker fell to his death from a raised platform, Sierra Pacific of Aberdeen, Washington, a well-known lumber producer, has been fined $112,000 for seven safety violations by the Washington State Department of Labor & Industries.
During the investigation the Department of Labor & Industries discovered that yellow caution tape had replaced what was once a section of safety guardrail on the 17 foot high platform. During his shift, the worker approached the edge of said platform and accidentally fell to the ground.
The Department of Labor & Industries concluded that the employer was accountable for the missing protective guardrail on the elevated platform, and that Sierra Pacific should have provided workers with a fall protection harness type system to catch a worker should they fall over the edge.
Fall hazards are consistently listed on the top 10 safety violations every year and sad stories like this one demonstrate why. While we can't prevent all fall related accidents, every safety product can help reduce the number of accidents. SafetySign.com offers an array of fall protection signs to help notify workers of hazards and to remind them to use their fall protection gear when working in dangerous areas.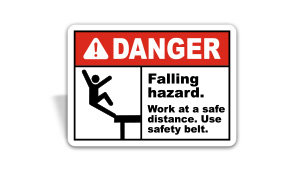 Source:
https://www.woodworkingnetwork.com/news/woodworking-industry-news/worker-falls-his-death-sierra-pacific-lumber