Cody Penwell was killed and three other teens from Washington Court House were injured from a rollover crash on Sunday Night.  The horrific accident that killed Cody Penwell of Ohio happened on Robinson Road in Fayette County Sunday Night.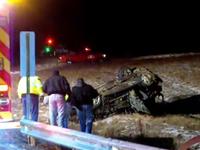 The crash occurred at 8:40 pm on February 12, 2012 in the area of 7431 Robinson Road.  Jacob Curtain was driving his 2005 Toyota Camry when he lost control of his vehicle.
From the reports, allegedly Jacob Curtain's Toyota Camry left the right side of the road and went airborne along the north bank of Mills Branch Creek where he hit the bridge abutment on the south side of the creek.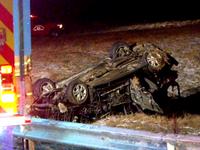 The vehicle driven by Jacob Curtain rolled numerous times and came to a stop with it flipped up-side down.   Cody Penwell was riding in the back of the Toyota, accompanied by Brianna Shiltz and they were both failing to wear seat-belts.  In the front seat were Jacob Curtain and 19 year old Shyanne Huffman who were both injured.
Cody Penwell was unconscious after the crash and was transported to Fayette County Memorial Hospital.  Cody was later pronounced dead by the county coroner.
No other details have been released at this time.
Related Resources: