Funny legal stories with a sign-related twist…
So Many Words
A driver in Washington had a speeding in a school zone ticket dismissed when he successfully argued that the speed limit signs were too wordy. The man did his homework, going so far as to read the Manual on Uniform Traffic Control Devices (MUTCD) to understand the federal regulations and requirements of the signage.
Source: http://www.theolympian.com/news/local/article160017439.html
At Least He Stopped
A Virginia man was charged with driving while intoxicated when police responded to reports that a car was not moving from a stop sign. The man, who refused a sobriety test, apparently fell asleep with the car running.
Source: https://patch.com/virginia/vienna/vienna-drunk-driver-falls-asleep-stop-sign-police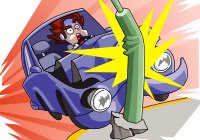 She Probably Should Have Stopped
Police in Washington arrested a woman after witnessing her dragging a street sign underneath her car. She was driving through a school parking lot and unsurprisingly charged with driving under the influence.
Source: https://www.kirklandreporter.com/news/woman-arrested-for-dui-after-dragging-street-sign-under-car-police-blotter-for-june-11-21/